Course details
[Recommended for banquet] All-you-can-eat all-you-can-eat and unlimited drinks 4000 yen (tax included) 3H 3500 yen with coupon usage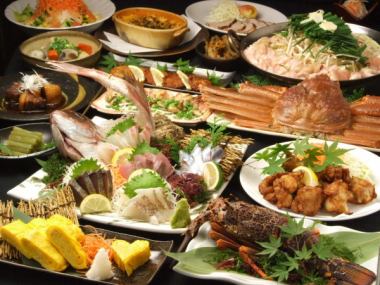 By using a coupon3500 yen
(tax included)
All-you-can-drink available

120 minutes drunk drink
Available days for reservation

Monday - Sunday - Public holidays - Holidays
All you can eat in the treasure ship is a system where daily specials come out quickly leaving you! Fresh fish such as fresh Xuan Nada, with luxurious sashimi, plus an all you can drink 4000 yen! Enjoy the refreshing custody as much as you want Please
Course menu
■ One example of all you can eat ■ + gorgeous sashimi + with crab (food content is daily ★)
All you can eat in the treasure ship is the system where the recommended dishes of the shop will appear more and more.
· Appetizers using seasonal ingredients
· Deep-fried popular dishes
·potato salad
· Roast pork
· Matsushiba
· Hakata special dish boiled
· Meita potato cheese grill
· Beef grilled meat
· Udon noodles
· Nabe (such as a pot)
· Stuffing
· Baked noodles etc.
Popular for banquets ♪ Eat as much as you want and drink as much as you want !! All-you-can-eat all-you-can-eat to reduce the burden on the secretary!
Unlimited drinks can be relaxed for 3 hours with coupons ♪ Volume perfect ◎ Price should be satisfied as well!? We are waiting (^ _ ^) /
※ By coupon use 【500 yen OFF + 3 hours】 or 【1 person for 1 person for free!】
All-you-can-drink menu
·beer
·beer
·wine
· Bottle wine (red · white), glass wine (red · white)
·Sake
· Cold soda, hot soup
· Shochu
· Potato · wheat · soba · rice (rock, water split, hot water split) 1.5 · 2, plum wine · apricot sake (rock, soda, hot water)
·whiskey
· Rock, water split, coke split, high ball
· Shochu high
· Lime, lemon, calpis, oolong, orange, cola, gigantic peak
·Cocktail
· Gin tonic, jin back, vodka tonic, moscommeureur, rum coke, calamiluk, cassis soda, cassis orange, cassis oolong, campari soda etc
·Soft drink
· Coke, ginger ale, calpis, orange, grape, oolong
Coupons that can be used with this course
2018/12/10 update